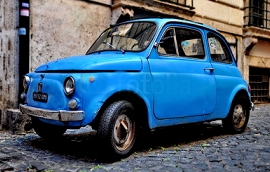 Welcome to our Vintage Cars Warehouse!
This dedicated section includes: Fiat 500 and Fiat 130 Coupé; complete steel distribution kit, gearbox kit and axle shaft kit for Fiat 500 and Fiat 126; spare parts for Fiat, Lancia and Alfa Romeo vintage cars. We are proud to be able to offer the whole range of FIAT CAMPAGNOLA SPARE PARTS, from engines to accessories, for example:
complete engines and engine spare parts;mechanical and rubber parts; bodywork spare parts; lighting or tapestry parts. We can quickly supply costumers also with: spare parts for FIAT 600 – 850 -1100 -124.
Our products are entirely MADE IN ITALY!
Remember that original spare parts are essential for your vehicle's full functionality and efficiency.
We make daily deliveries through international courier service.